Description
A Walk Beyond Time And Place
This is the ultimate self-guided Jack the Ripper Walk through the streets of Whitechapel. Get the PDF and the audio for the ultimate experience while you walk the streets of Whitechapel and Spitalfields. The saga of the murders, the area and especially the victims' lives will become alive when this walk leads you to some of the murder sites and through the streets where it all happened.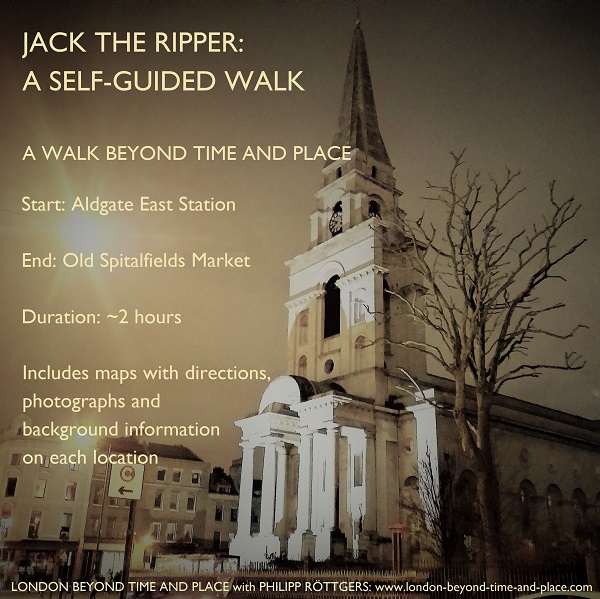 A self-guided Jack the Ripper Walk
The Whitechapel murders in the "autumn of terror" 1888 have always exacted a fascination on people. A walk through the streets in which these events occurred allows us to get a glimpse into a bygone era that still feels very present today and is the best starting point to travel in any direction in London's time and space. This walk will lead you through the area of the Ripper and his victims. Deep into the heart of darkness, into the abyss and along the "Ripper" streets…
This self-guided walk combines a downloadable guide book including photographs and maps and an audio guide for you to enjoy while walking the streets.
The audio guide will be available as one complete file as well as single tracks that each cover a section of the walk.
You can also find the separate text guide book here and the separate audio guide here.
Are you ready to enter the Ripper's East End?
The tour
Start: Aldgate East Station
End: Old Spitalfields Market (Commercial Street)
Duration: 2 h
The self-guided Jack the Ripper Walk includes:
All the murder sites of the canonical victims in chronological order
The White Hart Pub and Gunthorpe Street (site of the murder of Martha Tabram)
The street where Emma Elizabeth Smith was attacked by a gang
The Ten Bells Pub and Christ Church on Commercial Street
A walk from Mitre Square to Goulston Street, where you retrace the Ripper's route step for step exactly, as you will come to the house where he left a message…
Written and read by Philipp Röttgers
Additional voices:
Dorothee Schröder (Mary Ann "Polly" Nichols)
Katharina Röttgers (Mary Jane Kelly)