Description
A Walk Beyond Time And Place
Dies ist der ultimative deutsche Jack the Ripper Walk – sorgen Sie mit dem PDF und dem Audio für das ultimative Erlebnis, während Sie durch die Straßen von Whitechapel und Spitalfields laufen. Diese Tour lässt die Geschichte der Morde und ihrer Opfer lebendig werden, sie führt zu den einzelnen Tatorten und gibt einen Einblick in das Leben im East End am Ende des 19. Jahrhunderts.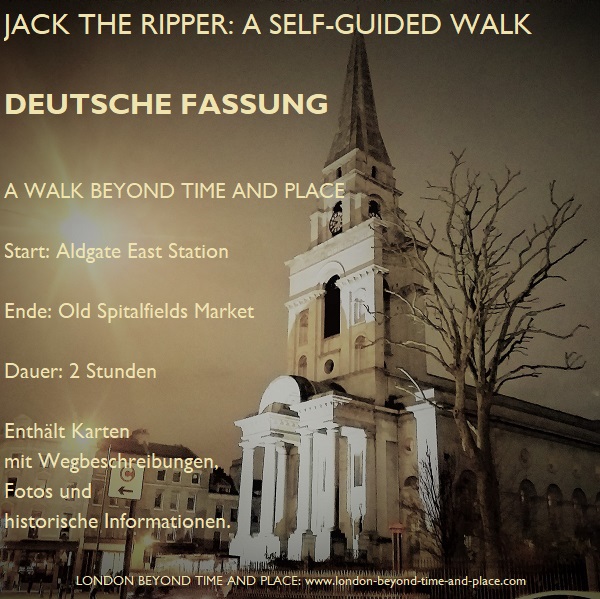 Ein geführter Jack the Ripper Walk auf Deutsch
Von jeher haben die Whitechapel-Morde des Jahres 1888 die Menschen fasziniert, und sie haben sich auf die Spuren Jack the Rippers begeben.
Dies ist umso spannender, als es uns bis heute möglich ist, einen Einblick in diese längst vergangene Zeit zu bekommen. Lässt man die Atmosphäre Whitechapels auf sich wirken, so kann man immer noch erahnen, dass die Menschen hier am Rande des Abgrunds lebten, in einem Schmelztiegel von Armut und Gewalt, Alkoholismus und Kriminalität, der die Ripper-Morde erst möglich machte. Wie an so vielen Orten in London verschwimmen hier Zeit und Raum und so können wir eintauchen in eine Welt jenseits dieser Dimensionen.
Dieser deutsche Jack the Ripper Walk besteht aus einem herunterladbaren Reiseführer mit Fotos und Karten sowie einem Audioguide, den Sie während Ihres Spaziergangs durch das East genießen können.
Der Audioguide wird sowohl als komplette Datei als auch als einzelne Tracks verfügbar sein, die jeweils einen Abschnitt der Route abdecken.
Das separate Textbuch finden Sie hier und den separaten Audioguide hier.
Sind Sie bereit, das East End des Rippers zu erkunden?
Die Tour
Start: Aldgate East Station
Ende: Old Spitalfields Market (Commercial Street)
Dauer: 2 Stunden
Der Jack the Ripper Walk beinhaltet:
Alle Tatorte der kanonischen Opfer in chronologischer Reihenfolge
Das White Hart Pub und Gunthorpe Street (Schauplatz des Mordes an Martha Tabram)
Die Straße, in der Emma Elizabeth Smith von einer Bande überfallen wurde
Das Ten Bells Pub und die Christ Church in der Commercial Street
Einen Weg vom Mitre Square zur Goulston Street, auf dem man die Route des Rippers Schritt für Schritt genau nachvollziehen kann, da man zu dem Haus kommt, in dem er eine Nachricht hinterlassen hat…
Text und Fotos: Philipp Röttgers
Gelesen von Dorothee Schröder